Hands in Motion Podcast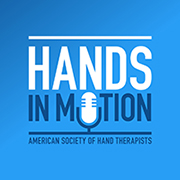 The Hands in Motion podcast features dynamic discussions with a variety of guests and encompasses interviews with diverse professionals about current treatment trends, hot topics in hand and upper extremity rehabilitation, current evidence, case studies, alternative treatment areas, and more. The podcast features an array of prominent guests including consumers and content experts on current trends and issues.
The Hands in Motion podcast hopes to educate, inspire and entertain OT, PT, CHT, or multidisciplinary professionals including hand/UE injury patients, physicians, and athletic trainers.

Hands in Motion e-Community
ASHT members may join the Hands in Motion e-Community, an open forum to ask questions and share resources related to the podcast. The Hands in Motion e-Community discusses various topics, including the patient experience, rehabilitation, and hot topics in healthcare and research.
How to Listen
Listen on the ASHT website and/or subscribe via major podcast channels, including Apple, Google, Amazon Music, and Spotify. Once subscribed, please rate and review the podcast to help us reach new listeners and continue offering valuable and relevant content.
Meet the Hosts
The Hands in Motion podcast is proudly hosted by Stephanie Strouse, OTD, OTR/L, CHT and Cara Smith, PT, DPT, CHT. Experienced professionals in hand and upper extremity therapy, both Stephanie and Cara are long-time ASHT members and serve on the Education Division where they manage several key projects. Please see their bios below for more information about the hosts!
Cara Smith, PT, DPT, CHT
Cara graduated from The University of Texas Southwestern Medical Center with a Master of Physical Therapy in 2007. She completed the Evelyn J. Mackin Hand Therapy Fellowship in 2010 and became a Certified Hand Therapist in 2013. In 2020, she earned a Doctor of Physical Therapy from Arcadia University.
Cara is the Hand Therapy Program Coordinator at Cook Children's Medical Center in Fort Worth, Texas. The majority of her clinical practice has been in pediatric orthopedics, working alongside orthopedic surgeons in multidisciplinary clinics taking care of children with congenital and acquired conditions, as well as traumatic injuries.
Stephanie Strouse, OTD, OTR/L, CHT
Stephanie has been practicing occupational therapy for over 28 years with the majority of her practice dedicated to the treatment of hand and upper extremity injuries. She graduated in 1992 with an associates degree in Applied Science and progressed to earn her bachelors degree in 2002 and doctoral degree in 2015. In 2016, she earned the designation of Certified Hand Therapist and has continued to practice in an outpatient setting.
Stephanie is actively involved in the Education Division for the American Society of Hand Therapists since 2015 and served as an ASHT board intern in 2018. Stephanie is also a mother of three children and owns her own yoga studio and enjoys boating, hiking, crafting and spending down time with her family.
Missy Cathcart Thurlow, MBA, OTR/L, CHT
Missy works in Atlanta, Georgia for Peachtree Orthopedics.  She has been an occupational therapist for 42 years and graduated from the University of Texas Medical Branch in Galveston, Texas in 1981. Missy is currently the ASHT Annual Meeting Chair and also works closely with the Georgia Hand and Upper Extremity Special Interest Group. Previously, she has given many years to serving on the ASHT board of directors and loves working with other therapists by providing great education. Missy is a fieldwork instructor and loves to teach students about hand and upper extremity rehabilitation.
Most Recent Podcast
Featured Guest(s):
Julianne W Howell, PT, MS, CHT
Duration:
32 minutes 37 seconds