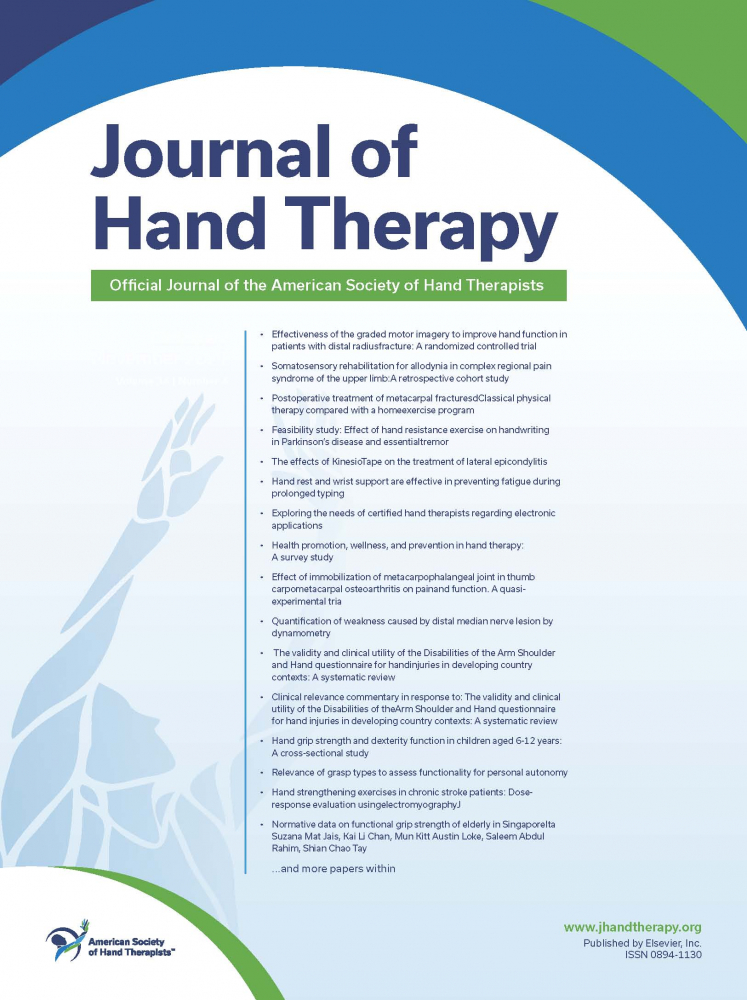 The Journal of Hand Therapy is the official journal of the American Society of Hand Therapists, designed for hand therapists, occupational and physical therapists and other hand specialists involved in the rehabilitation of disabling hand and upper extremity problems. The Journal functions as a source of education and information by publishing scientific and clinical articles. Regular features include original reports, clinical reviews, case studies, editorials and book reviews. 
ASHT membership includes a quarterly print subscription to the Journal of Hand Therapy - a $189-value. Along with the print subscription, ASHT members receive online access to all back issues of the Journal of Hand Therapy.  
---
Members can now access full text Journal of Hand Therapy articles online.
ASHT members have two options to access the JHT:
Option #1:
Log in to the ASHT website in order to read articles at Journal of Hand Therapy using your member account without logging in again at the Journal site.
Please note that access through the ASHT site allows access to articles for members, but does not provide full access to additional personalized journal website features, which are available if you set up your own account at Journal of Hand Therapy. Therefore, it is recommended that you set up your own account using Option #2, as shown below.
Option #2:
Activate access to your online subscription directly at Journal of Hand Therapy to take full advantage of the site's features such as saving searches and setting personalized email alerts for new articles.
If you have not already done so, click here to set up an account. Note that you will need to enter your ASHT member ID number on the first visit in order to claim your subscriber access. Your selected password will then suffice for future visits to the JHT website.
Steps To Create An Account And Claim Access:
Click Create Account, then complete the Register For An Account For Free form and click Register.
On the Claim Online Access Page, select "I receive my subscription through a society membership."
Enter your ASHT member ID number + Last Name, then click Activate Claim.
The Journal of Hand Therapy website is owned and administered by Elsevier. Should you experience any difficulty accessing your online subscription, please contact Elsevier Customer Service for assistance: 1-800-654-2452 (toll-free) or journalsonlinesupport-usa@elsevier.com.