Hand Therapy Week is an integrated national program established by ASHT. Throughout the week, members of the hand and upper extremity therapy community sponsor and organize events and celebrations in an effort to raise awareness among various audiences, highlight the benefits of the specialty and educate the public. Hand Therapy Week is held each year during the first full week of June (beginning on a Monday).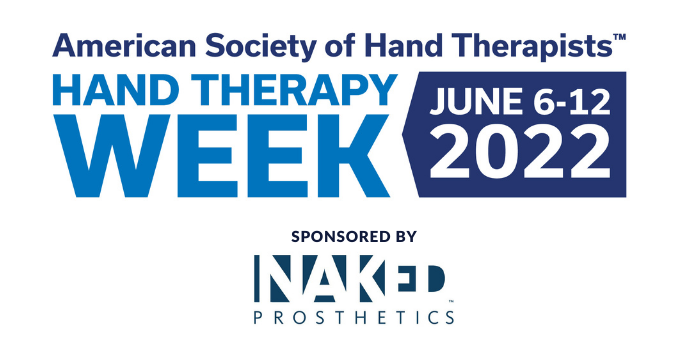 Thank you to everyone who celebrated Hand Therapy Week 2022! To view all of the fun and informative initiatives from our members across the world, visit the ASHT Facebook page and search #HTW2022 on Twitter.
Want to get a head start on next year? Here are some creative ideas for celebrating the specialty.
---
ASHT Photo Contest
Congratulations to the winners of our 2022 Photo Contest!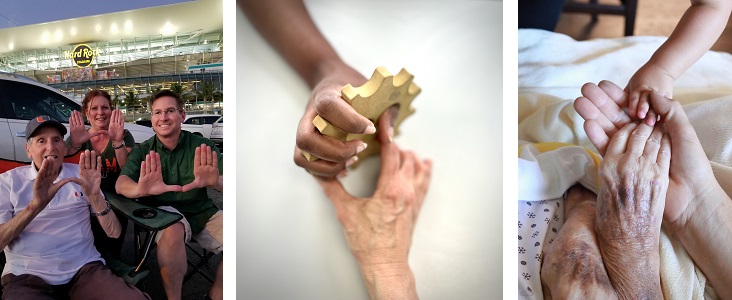 First place:  Laurie Thurber, OT, CHT (It's all about the U)
Second place:  Rosemary Tedesco, OTR/L CHT (Tanisha)
Third place: Donna Goodson, OTR/L, CHT (Three generations of hands) 
The top three photos will receive ASHT prizes, and thanks to this year's sponsor, Naked Prosthetics, a wine gift basket (white or red).
Note: This contest is open to ASHT members only. Multiple images may be submitted. Limit one prize per person. Winner will be contacted to select gift basket of choice. (If the winner does not want wine, they will receive a gift basket of equal value.) Contest submissions become property of ASHT, and may be used in future marketing materials.
View 2022 submissions
View 2021 submissions
View 2020 submissions
View 2019 submissions
View 2018 submissions
---
Hand Safety Videos
ASHT is excited to release a new video series on the impact of upper extremity injury on mental health. The three videos in the series were released throughout Hand Therapy Week. View them on our YouTube channel.
We encourage you to share these videos and the others in our series with your patients, colleagues and social media followers to promote the specialty.
ASHT Hand Safety and Injury Prevention Video Series
---
Daily Challenges
We loved seeing all the creative ways our community participated in this year's daily challenges! Be sure to visit our Facebook page and search #ASHT2022 on social media to see all the celebrations. 
MONDAY (6/6): "Bling It" Orthosis — Show off your orthosis creativity, whether something you creatively fabricated or decorated in a fun way.
TUESDAY (6/7): CHT in the Making — Shoutout someone who exhibits qualities that would make them a wonderful CHT by tagging them in this post, sharing a photo or writing a testimonial.
WEDNESDAY (6/8): "Nailed It" Challenge — Like Netflix's "Nailed It!," we're looking for "amateur orthosis makers" to try their hand at recreating your custom-made masterpieces. Choose a colleague, friend or family member to talk through making an orthosis. Share your videos and/or photos of the final product!
THURSDAY (6/9): #ThrowbackThursday — Share your favorite throwback photos, whether it's from a past ASHT Annual Meeting, your first day working in hand and upper extremity therapy, graduation, etc.
FRIDAY (6/10): Grassroots Effort Day — To celebrate one of our new ASHT awards, we want to see photos, videos, links etc. to all the ways you've spread awareness and advocated for the hand and upper extremity therapy specialty this year! To take it to the next level, nominate yourself or someone else for the new Best Grassroots Efforts Award! 
Have an idea for next year? Let us know!
---
Celebrate & Win!
Did you hold an event or project to promote the hand and upper extremity therapy specialty? Send a photo, video, link or description of your 2022 Hand Therapy Week celebrations to ASHT@asht.org, and you'll be entered to win ASHT prizes, as well as a wine gift basket (white or red) from our sponsor, Naked Prosthetics.
Participants and their submissions will be acknowledged on the ASHT website and social media channels. Contest submissions are due June 24, 2022.
Note: This contest is open to ASHT members only. Multiple entries may be submitted. Limit one prize per person. Winner will be contacted to select their gift basket of choice. (If the winner does not want wine, they will receive a gift basket of equal value.) Entrants may receive marketing material from our HTW sponsor. Contest submissions may be used in future marketing material.
---
Resources
Marketing Resources 
Choose from three flyers to use in your clinic as educational resources or distribute to your referral sources — all updated with ASHT's new look! The flyers for surgeons and primary care physicians provide space where you can add contact information for your practice via label, sticker, stamp, etc., and can be used all year round.
Flyer for Surgeons
Flyer for Primary Care Physicians
Generic Flyer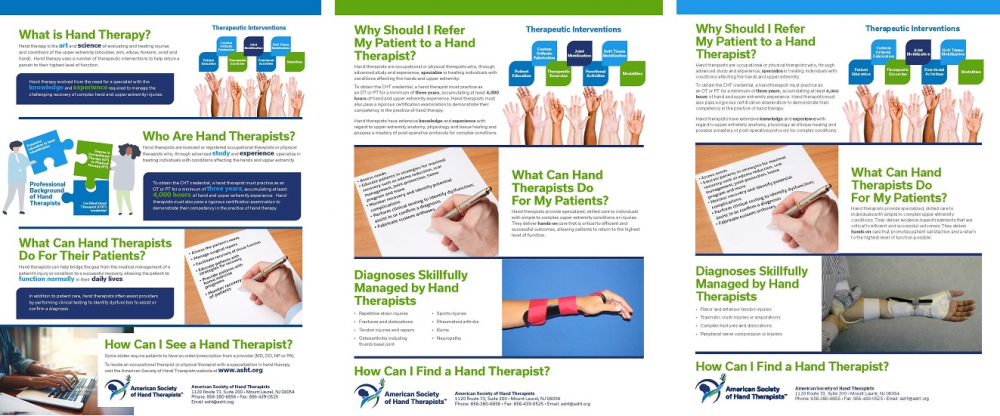 WATCH: ASHT Past President Heidi Hermann Wright discusses how you can use these flyers to promote hand therapy
---
Patient Education Resources
Utilize our vast library of Patient Education Resources, which provide information on common diagnoses and the role a hand therapist plays in treatment. Based on member requests, we've begun releasing Spanish translations of our most popular resources. 

---
Share Your Story
Hand therapy can change lives, and who better to share the importance and impact of hand therapy than our patients? 
During Hand Therapy Week -- and throughout the year -- encourage your outstanding patients to submit a testimonial about the impact hand therapy had on their lives. Visit our Patient Testimonials page, and access the patient and therapist webforms at the bottom of the page to submit your success stories!
Note: You will be asked to upload documentation of your patient's consent using this form. Your story may be featured on our website or in upcoming campaigns.
---
Get the Word Out
Write a Press Release
Create effective Hand Therapy Week buzz in your local media by sharing your personal success, patient accomplishments and news with the public through targeted media outreach. ASHT's Marketing Toolbook will help you develop a press release and strategically contact media to announce your organization's plans to celebrate Hand Therapy Week.
Hand Therapy Week 2022 press release
Learn more about contacting news outlets
Contact Your Local Government
Spread the word about hand therapy by writing a letter to your local Chamber of Commerce (sample) or requesting a state proclamation (sample).
Celebrate
---
About Our Sponsor: Naked Prosthetics
It's About Function: Our mission at Naked Prosthetics is to assist finger and partial-hand amputees by positively impacting their lives through providing functional, high-quality finger prostheses to get people back to work and doing the things they love. We offer four functional, high-quality designed finger prostheses. Our custom devices are designed within millimeters of a patient's unique amputation and hand structure.