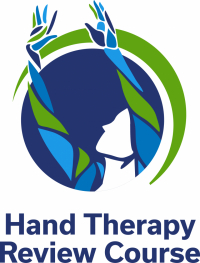 Virtual Hand Therapy Review Course
In addition to live, in-person review courses, ASHT is happy to also offer the Hand Therapy Review Course on a virtual platform.
The re-designed course consists of 21 on-demand sessions, including a cadaver lab.
---
In-Person Hand Therapy Review Course
Atlanta, GA
August 11-13, 2023
More Information/Register
Baltimore, MD
Fall 2023
Registration to open soon!
---
Hybrid Hand Therapy Review Course
The newly-launched Hybrid Hand Therapy Review Course includes an innovative in-person and virtual format consisting of multiple live presentations and an in-person cadaver lab. Additionally, participants may elect to also access the Virtual Hand Therapy Review Course, which consists of 21 on-demand sessions, and the widely-acclaimed ASHT book, Test Prep for the CHT Exam: Study Outline and Clinical Reference, 4th Edition. 
More Information/Upcoming Course Dates 
---
Hand Therapy Review Course Overview
The ASHT Hand Therapy Review Course provides a comprehensive review of the evaluation and intervention processes pursued for typical diagnoses in upper extremity rehabilitation. Particular focus is placed on clinical reasoning, case discussion and evident-based practice.
The course provides an opportunity for active learning and application of hand therapy principles to facilitate retention of presented information. The course also offers a structured study approach to upper extremity rehabilitation that may serve as a means to prepare for the CHT Exam.
---
General Course Outline
Foundational Science of the Upper Extremity: Anatomy and Kinesiology Review
Course Description:
A working knowledge of the anatomy and kinesiology of the upper extremity provides a solid foundation for therapeutic evaluation and intervention. Using classroom-lecture format and cadaver lab components, this pre-course will review the anatomy and biomechanics of each joint, examine the brachial plexus and innervation patterns of the arm and hand and allow for guided review using upper quarter cadaveric specimens.
Objectives:
Create an individual learning plan to address three identified areas of weakness in hand therapy topics.
Explain interaction between boney anatomy, static and dynamic stabilizers, and proprioceptive reflexes necessary to allow pain free range of motion and force transmission across the following joints: digits, thumb, wrist, elbow, and shoulder.
Comprehensive Survey of Hand Therapy Review Course   
Course Description:
This course is designed to provide a comprehensive review of the evaluation and intervention processes pursued for typical diagnoses in upper extremity rehabilitation. Advanced clinicians will employ fundamental concepts, clinical reasoning, and evidence to provide a multi-faceted approach to the hand therapy process. Adjunctive methods for intervention will be analyzed as a means to facilitate outcomes, and an expert panel will be offered on Day 2 during the review questions segment to allow a high level of attendee-faculty interaction via case discussion.
Objectives:
Design appropriate treatment plans for patients with four common upper extremity peripheral nerve diagnoses including ulnar neuropathy, median neuropathy, and radial neuropathy and upper brachial plexus injuries.
Create custom treatment plans for patients with three discrete levels of crush or blast injuries: Finger level, wrist level, distal forearm level injury.  
Justify clinical application of three physical agents for patients with upper extremity diagnoses.
Determine how to modify hand therapy protocols for the following conditions:  hand fractures (phalangeal, metacarpal), wrist fractures (carpal or distal radius), and tendon injuries (flexor or extensor injuries).
Discuss three discrete patterns of wrist instability using patient history, symptoms, diagnostic testing, and clinical special testing.
Propose an appropriate treatment plan including orthosis and safe exercise progression for 90% of patients with Triangular Fibrocartilage Complex injuries and ulnar wrist pain. 
Design a custom program considering post-operative limitations for each patient after arthroplasties, including one each of the following procedures: shoulder reverse or traditional arthroplasty, elbow total arthroplasty, wrist total arthroplasty, thumb carpometacarpophalangeal interposition arthroplasty and index, middle, ring, and small digits metacarpophalangeal and proximal interphalangeal arthroplasty.
Identify two appropriate rehabilitation goals and three interventions to promote post-operative healing and recovery of function in the spectrum of three conditions of rotator cuff injury (tendinitis, tendinosis, and rotator cuff tear), and two instability conditions of the shoulder (traumatic unidirectional and atraumatic multidirectional). 
---

---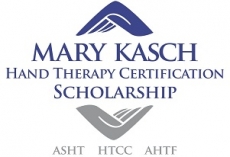 Preparing for the CHT Exam?
The Mary Kasch Hand Therapy Certification Scholarship is a financial scholarship awarded to a well-deserving occupational therapist or physical therapist preparing for the Hand Therapy Certification Examination.
Proudly supported by the Hand Therapy Tri-Alliance