The American Society of Hand Therapists (ASHT) is an organization of professionals dedicated to advancing the field of hand and upper extremity therapy by promoting education, advocacy, research and clinical standards. ASHT members include occupational and physical therapists, advanced practice practitioners, surgeons, researchers and administrators.
ASHT Founders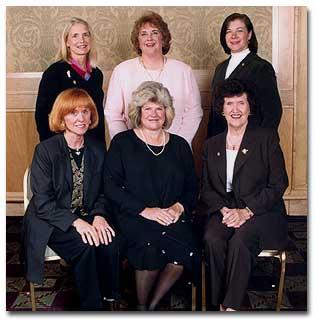 ASHT founding members
Front Row: (L-R) Margaret S. Carter OTR, CHT, Bonnie Olivett OTR, CHT, Evelyn Mackin PT. Back Row: (L-R) Karen Lauckhardt MA, PT, CHT, Mary Kasch OTR/L, CHT, and Judy Bell-Krotoski, OTR, FAOTA, CHT
History
A full historical overview can be found throughout the 2002 (25th anniversary) editions of the ASHT TImes.
Early ASHT & Founding Members
ASHT Logo: A Historical Perspective
Membership Development
Journal of Hand Therapy
Certification: Excellence in Hand Therapy
View "ASHT - the First 20 Years," an online photo album recreated from an album created by ASHT Historian (1997) Ginger Clark, OTR, CHT.
View "40 Years of Inspirational Quotes" from past ASHT leaders in honor of ASHT's 40th anniversary
View "ASHT Tribute Video to the Late Evelyn Mackin Henry, PT"