As told by Karen Prendergast Lauckhart, MA, PT, CHT, and Mary Kasch, OTR, CVE, CHT; Edited by Susan Johnson Melat, OTR, CVE, CHT -- 2002
It was 1975 in San Francisco at the American Society for Surgery of the Hand (ASSH) meeting when the founders of ASHT first gave birth to the concept of a united hand therapy organization. The "original six" included Bonnie Olivett, Karen Prendergast Lauckhardt, Evelyn Mackin-Henry, Judy Bell-Krotoski, Mary Kasch and Pegge Carter-Wilson.
These hand therapists were encouraged to attend this meeting by the doctors with whom they worked: Dr. Richard Petzoldt, Dr. Richard Smith, Dr. Robert Beasley and Dr. Jim Hunter. Some of the hand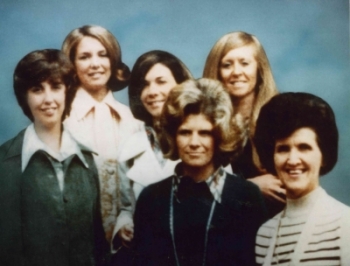 surgeons of this time realized they wanted a specially trained therapist to work with their delicate hand surgeries. Others were not so welcoming of the therapist audience and even vocalized such, but these eager young therapists were trying to learn more and develop their skills.
Having no idea other therapists would be at the meeting, they soon realized there were other therapists in the audience. A curiosity and desire to collaborate developed. Bonnie Olivett posted a note on the bulletin board for any interested hand therapists to meet for coffee.
Over those cups of coffee, Bonnie, Karen, Pegge, Evelyn, Judy and Mary laid the groundwork of ASHT. Their original motive was to get together to boost their learning curve. They realized they were stronger united than isolated. From this meeting, tasks were assigned.
The original concept was to become a club or even a sub-specialty of ASSH. However, the surgeons were not ready for this. In fact, some surgeons were actually opposed to therapists specializing, some even aghast, while others were encouraging but skeptical.
Incredibly, this small group represented the diversity of hand therapy with two physical therapists and four occupational therapists. They also had different practices – doctor-based, hospital-based and private. Of course, the term "hand therapy" wasn't used yet, it was coined when the group was deciding what to call the new organization.
As these therapists returned home with their tasks, they communicated regularly by letter and phone calls (no email then!). This therapist group grew in numbers as more interested therapists joined, mainly from the Philadelphia Hand Meeting in the spring -- Irene Hollis, Gloria deVore, Maude Malick, Shirley O. Pearson and Clare deLeeuw, to name a few. They corresponded that first year, then met again in Las Vegas the next year.
Mary Kasch recalls: "We had named ASHT by then and established the goals of the organization. Although the wording has changed, the goals have remained similar, which I think is a testimony to the vision of the founders -- to teach, do research, establish standards and publish. We naively invited people to submit applications for membership. Then we were informed that we would have to incorporate before we could take money from people!"
Kasch adds, "ASHT therapists approached ASSH and asked for a grant. I think it was just too political a move for them, and we finally contributed the money for incorporation ourselves. Evelyn handled the incorporation. When this group was given lifetime membership in 1991, it was in acknowledgment of that incorporation money, which we never paid ourselves back."
After almost two years of false starts, ASHT's first Annual Meeting notices went out. It was held in Dallas in 1978. Bonnie Olivett was elected as the first ASHT president, which was an inspired choice, because she was so good at being tactful and commanded respect.
In this time of limited technology, Bonnie presented the first presidential address using a 2001 Space Odyssey video and slide combination format. It was so impressive that ASSH asked her to present it at their Annual Meeting. Bonnie was the first therapist to present at an ASSH meeting. We were here to stay!
Kasch reflects, "I remember sitting in a coffee shop with the other founders the morning of the first meeting, and Pegge Carter said we should take a photo that would be on the cover of the [Journal of Hand Therapy] in 20 years. We all laughed, but we didn't take the photo, which is a shame, because she was right. We didn't realize the importance of what we were doing, or the way it would grow.
"It still amazes me what has developed from that early meeting in San Francisco. I would say we were excited about it, but never fearful - it just seemed right, and when we got discouraged, we encouraged each other to keep going. Even though we are very different, the support and friendship of that group was so incredible."