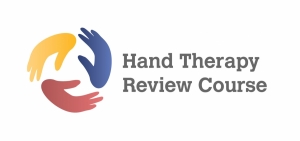 Course Accreditation
Occupational Therapists
The American Society of Hand Therapists is an approved provider by the American Occupational Therapy Association (AOTA). The assignment of AOTA CEUs does not imply endorsement of specific course content, products or clinical procedures by the AOTA. 
This continuing education activity offers a maximum of 23.5 continuing education hours, or 2.35 CEUs. This total includes a two-day course - Saturday and Sunday (maximum of 15.5 contact hours), and a three-day course - Friday through Sunday (maximum of 23.5 contact hours). 
Physical Therapists
The New York State Education Department Board of Physical Therapy recognizes ASHT as an approved provider of physical therapist and physical therapist assistant continuing education.
 
ProCert, operated by the Federation of State Boards of Physical Therapy (FSBPT), has awarded certification in the amount of 17 Continuing Competence Units (CCUs) for the 3-day course and 13 Continuing Competence Units (CCUs) for the 2-day course to this activity, by the following jurisdictions:
| | | |
| --- | --- | --- |
| Alaska | Arizona | Arkansas |
| California | Colorado | Delaware |
| District of Columbia | Georgia | Hawaii |
| Idaho | Illinois | Indiana |
| Kansas | Kentucky | MIchigan |
| MIssissippi | Missouri | Montana |
| Nebraska | North Carolina | North Dakota |
| Oregon | Puerto Rico | South Carolina |
| Tennessee | Utah | Vermont |
| Virginia | Wisconsin | Wyoming |
The following state PT boards accept courses provided by other state PT boards*
| | | |
| --- | --- | --- |
| Alabama | Connecticut | Iowa |
| Maine | Massachusetts | Minnesota |
| New Hampshire | Ohio | Oklahoma |
| Rhode Island | South Dakota | Washington |
CCUs are a unit of relative value of an activity based on its evaluation against a comprehensive set of standards. The CCU determination is a valuation reflecting many factors including, but not limited to, duration of the activity. No conclusion should be drawn that ProCert's CCUs correlate to time or duration.

*Disclaimer: The American Society of Hand Therapists provides this list for your convenience. At the time of listing, the above state boards accept courses by virtue of approval by other organizations. It is the responsibility of the participant registering for a course to check with his or her state boards to confirm rules and regulations regarding acceptance of contact hours for live and online courses. 
Helpful link - FSBPT Licensing Authorities Contact Information
https://www.fsbpt.org/FreeResources/LicensingAuthoritiesContactInformation.aspx
Should you use the ASHT Hand Therapy Review Course in your state physical therapy recertification process (and your state is not listed on our approved list), ASHT will reimburse up to $100** of the cost of the application process. Pease send ASHT a copy of your state physical therapy continuing education application to receive the reimbursement. Please contact ASHT at asht@asht.org or call 856-380-6856 for more information.
**This reimbursement applies only to the first person to apply within each state. Subsequent applicants will not be charged by their state for the filing.
Athletic Trainers
The American Society of Hand Therapists is recognized by the Board of Certification, Inc. to offer continuing education for Certified Athletic Trainers.
Obtaining CEUs
Within three to five days following the course attendees will receive a link to create their CE transcript. Attendees will also be able to provide feedback to speakers on the sessions they attended. They will have up to one year to complete the CE transcript. Questions can be directed to lpatalano@asht.org.
Participants must
​Have paid the registration fee
Attended sessions in their entirety (complete daily sign-in sheet)
Complete an online evaluation form after the course. CE certificates will be available upon submission of evaluation form
Attendees should only claim credit commensurate with the extent of their participation in the activity.