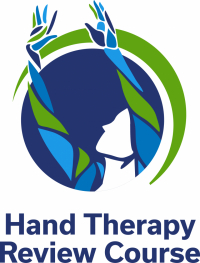 Hybrid Hand Therapy Review Course: 
Virtual Lectures With Live Presentations
August 6-7, 2022 (2-day live course) 
Fort Wayne, IN
plus access to the Virtual Hand Therapy Review Course
---
The Hybrid Hand Therapy Review Course includes an innovative in-person and virtual format consisting of multiple live presentations and an in-person cadaver lab on August 6 & 7, 2022 as well as access to the Virtual Hand Therapy Review Course, which consists of 21 on-demand sessions.
Registration includes a printed course manual containing all of the in-person session presentations from the live 2-day course as well as an online manual containing the 21 on-demand presentations from the Virtual Hand Therapy Review Course.
The course will award a total of 36 contact hours, or 3.6 CEUs, as follows:

The Live 2-Day Course awards 8 contact hours each day for a total of 16 hours
The Virtual Hand Therapy Review Course awards 20 contact hours

Participants will receive log-in information to access the Virtual Hand Therapy Review Course after the live course event. 
---
---
Course Description
The ASHT Hybrid Hand Therapy Review Course provides a comprehensive review of the evaluation and intervention processes pursued for typical diagnoses in upper extremity rehabilitation. This new course is an interactive review course that allows hands-on practice of palpation, special testing, manual therapy techniques and treatment interventions discussed in the traditional hand therapy review course. A cadaver lab will be led by a CHT and an anatomist to review pertinent anatomy. This course is perfect for kinesthetic learners and therapists who work in a setting with limited access to a live mentor.
The ASHT Hybrid Hand Therapy Review Course provides an opportunity for active learning and application of hand therapy principles to facilitate retention of presented information. The course also offers a structured study approach to upper extremity rehabilitation that may serve as a means to prepare for the CHT Exam.
Participation in this course includes a 16-hour live course AND access to the Virtual Hand Therapy Review Course for a total of 36 CEU credit hours. Participation will be limited to 32 registrants.
---
Date/Location
August 6-7, 2022 (2-day live course)
8:00 am - 5:00 pm each day
Huntington University Occupational Therapy Program
1819 Carew Street
Fort Wayne, IN 46805
(On the Parkview Randallia Medical Campus)
---
Registration Fees
Cancellation of registration prior to the start of your virtual course is permitted and will result in a refund minus a $50 cancellation fee. THERE WILL BE NO REFUNDS AFTER THIS ESTABLISHED DEADLINE. It is the responsibility of the registrant to notify ASHT of cancellation in writing or by email to education@asht.org. Refunds will be issued within 30 days of notification. In the unlikely event that a course is canceled, ASHT will provide full refund of the registration fee only.
All grievances may be directed to the ASHT Education Division by sending an email to:
education@asht.org.
---
Members: $450
Non-Members $500
---
CLICK HERE for the program
CLICK HERE for course accreditation information
CLICK HERE for faculty profiles
---
For further information or questions regarding this course, contact education@asht.org.