Greetings ASHT members! It is once again time to gear up for our next great Annual Meeting and announce our call for sessions. This is your chance to submit your work: a crafty idea, a topic of your interest, a feature of your practice that is frequent to you but perhaps unknown to other therapists or an area of your research from a specialty degree, to name a few. Our collective ideas together move our organization forward and make for a meeting with strong educational content. This is ultimately our goal each year and we are planning to reconvene in 2021 and return to an in-person meeting* with our hand therapy community coming back together to share, learn and prosper.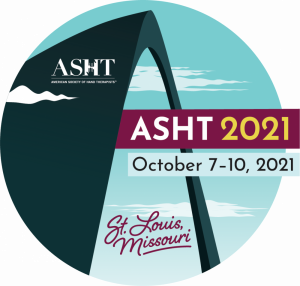 Our 2021 meeting theme is "Equity, Community and Excellence: Our Gateway to the Future." With St. Louis — known locally as the gateway to the west — as our host city, the Annual Meeting Committee worked hard to identify three key concepts perhaps tested or exposed by the 2020 pandemic that we could rally around to promote moving our profession and the hand therapy specialty forward. Equity of healthcare and therapy provision, the community of hand therapy and excellence within all facets of education, practice and research resounded as our focus. We are seeking submissions for sessions in 30-minute, one-hour, two-hour or four-hour (Pre-Conference Institutes) increments that contribute to the betterment of our profession and strive to highlight these pillars of our meeting theme. We encourage new, creative, forward-thinking ideas and encourage you to be a contributing member of our meeting.
The call for sessions site is open now until January 29, 2021. ASHT is moving forward with a hybrid Annual Meeting in 2021.This accommodates attendees whether they prefer to participate in person or virtually. No matter which option attendees choose, your session submission will be considered for both in-person and virtual presentations. Submit your session today!
Meet me in St. Louis in October 2021!
Nora Barrett, MS, OTR/L, CHT, WCC
ASHT 2021 Annual Meeting Chair
*ASHT will continue to evaluate and monitor conditions to hold an in-person meeting with the health and safety of our attendees, vendors and staff at the forefront of our planning. Regardless of the final organization of the Annual Meeting, we want to assure session submitters that we are planning to have the full set of continuing education hours associated with a traditional conference.